Per intake % RI (*)
Energy 323 kcal = 1351 kJ 16%
Fat 12.80 g 18%
Saturates 7.12 g 36%
Carbohydrate 34.40 g 13%
Sugars 17.60 g 20%
Polyols 10.40 g **
Fibre 4 g **
Protein 20 g 40%
Salt 0.12 g 2%

* Reference intake of an average adult (8400 kJ/ 2000 kcal).
** Reference intake not established.

Ingredients: Protein Blend ( Milk Protein Isolate , Whey Protein Concentrate ), Milk Chocolate Flavored Coating (18%) (Sugar, Palm Oil, Palm Kernel Oil, Whey Powder , Fat-Reduced Cocoa Powder, Wheat Flour, Emulsifier(s) ( Soy Lecithin , E476), Flavoring), Caramel (15%) (Sweetened Condensed Milk, Glucose Syrup, Vegetable Oils (Palm, Rapeseed), Sugar, Caramelised Syrup, Emulsifier (E471), Salt, Natural Butter Flavour (Milk)), Humectant (Glycerol), Glucose Syrup, Roasted Nibbed Hazelnuts (4%), Humectant (Maltitol), Polydextrose , Maltodextrin , Fat-Reduced Cocoa Powder, Rapeseed Oil, Flavourings, Antioxidant ( Mixed Tocopherols ) .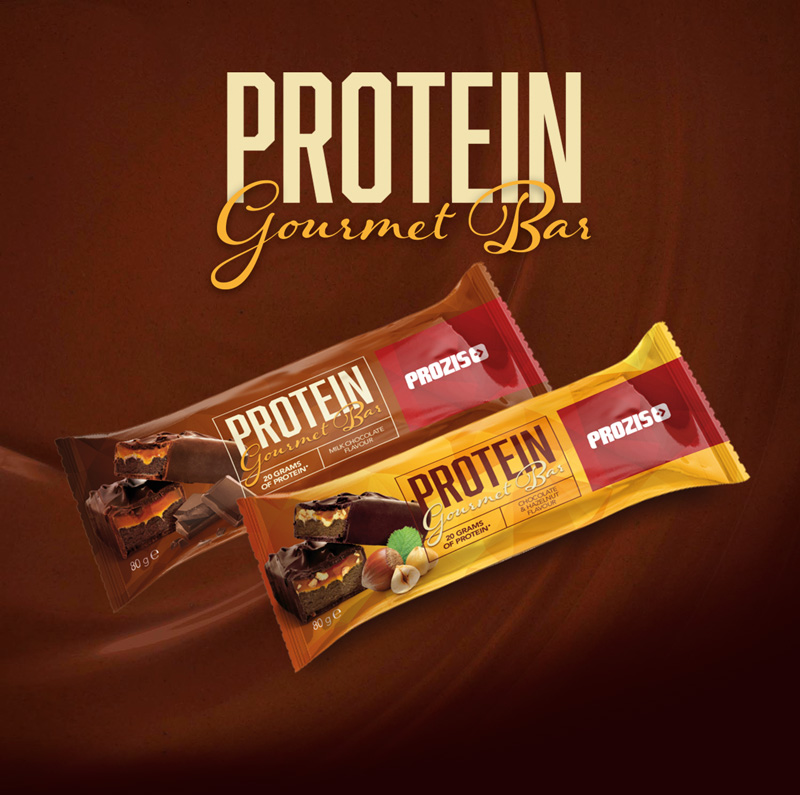 Twenty grams of protein, eighty grams of delight.
Snack de la crème.
THE GOURMET PROTEIN PERFECT FOR A GOURMAND.
With your refined taste in mind, we challenged ourselves and created a fine treat - the most delicious bar!
Protein Gourmet Bar will be the high time of your day, with 20 g of fine protein, contributing to a balanced diet and a healthy lifestyle.
With its several layers of yummy, creamy chocolate, velvet caramel and crunchy hazelnuts, you'll have your daily intake of protein, guilt-free!
The perfect snack for a balanced day!
Milk chocolate
THE VERY ESSENCE OF A DAYDREAMER.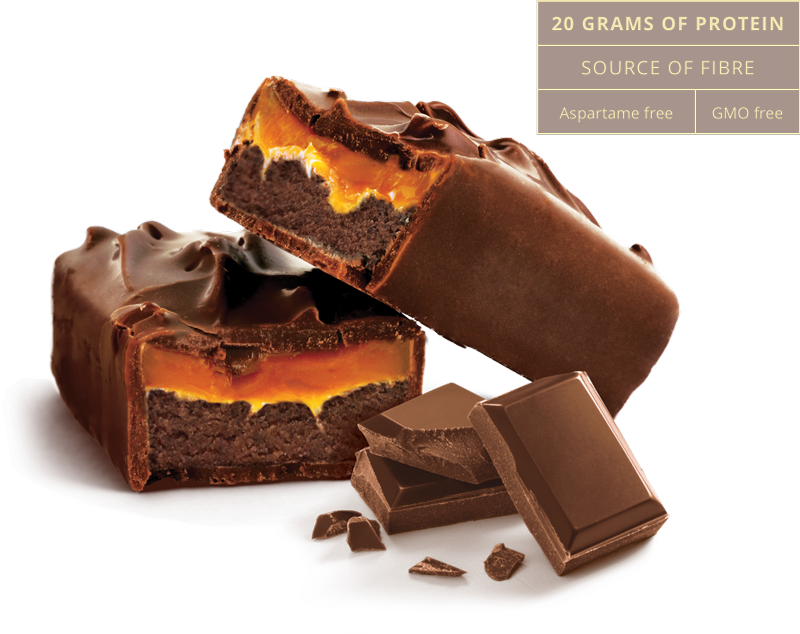 With your first bite, you will experience the dream very much awake! A milk chocolate fusion with a delicious caramel cream. And the best of all? Protein enriched! It's Proteinlicious!
 
Dark chocolate 
& hazelnuts
IT'S ALL ABOUT REACHING THE INTANGIBLE.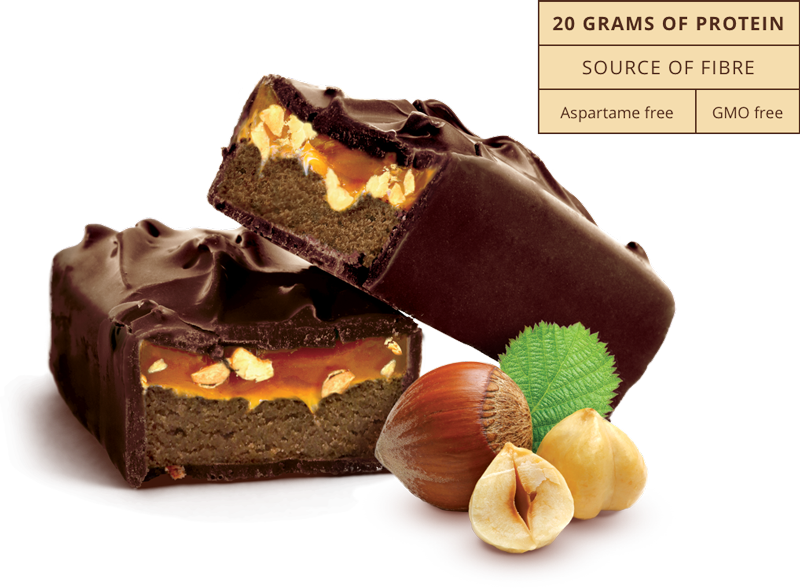 When all your senses settle on a single crunchy bite, you know that you are closer to the ethereal than you have ever been. Here's the perfect trilogy: dark chocolate, caramel, and hazelnuts! All combined in a mighty protein-enriched bar. Heavenly yours!
The power of a refined taste.
High in Protein

Source of Fibre

Vegetarian

Incredible texture and flavour

Enriched with whey protein
20 g of protein per 80 g bar

Aspartame-free

Artificial colouring-free

Preservative-free

GMO-free
Everyone can have a supreme and inspiring day!
The "Protein Gourmet" is a great snack for everyone! You can split one single bar and enjoy different moments of your day! Mums, kids, grannies, active and not-so-active people can have a flavourful day with this high source of fibre and protein. "Protein Gourmet" is the very best snack to eat between meals. Each and every break will be truly inspiring!
Mums On The Go

Kids

Seniors

Athletes

Busy professionals

Weight management
Outside the box!
RETHINK AND COMPLEMENT YOUR POST-WORKOUT REWARD.
You can carry on with your protein powder in the shaker, but never forget…there are other ways to have your protein boost! Maybe it's time to rethink that reward after an intense workout - complement your reward in a pleasant way, with a superb texture and flavour!
After your workout routine, you will find the top quality features for a balanced diet in a single whey protein enriched bar.
Protein Gourmet Bar 80g / Valgubatoon
Tootja: Prozis
Mudel: prozis00085
Saadavus: Laos
Sildid: protein, gourmet, bar, 80g, , , valgubatoon