Per intake % RI (*)
Energy 466 kcal = 1950 kJ 23%
Fat 25 g 36%
Saturates 14 g 70%
Carbohydrate 52 g 20%
Sugars 26 g 29%
Fibre 4.70 g **
Protein 5.70 g 11%
Salt 0.26 g 4%
* Reference intake of an average adult (8400 kJ/ 2000 kcal).
** Reference intake not established.

Ingredients: Oat Flakes, Margarine (Vegetable Oils (Palm Oil, Coconut oil, Sunflower Oil), Water, Emulsifier ( Mono- and Diglycerides of Fatty Acids ), Acidity regulator (Citric Acid), Preservative ( Potassium Sorbate ), Flavourings, Colours (Carotene)), Sugar, Coating (Sugar, Fully Hydrogenated Palm Oil, Cocoa powder, Emulsifier (SOYA lecithin), Flavourings, Cinnamon), Invert Sugar Syrup (Sugar, Water, Acidity regulator (Citric Acid), Acidity regulator (Sodium Hydrogen-Carbonate), Colours (Sulfite ammonia caramel)), Flavourings, Cocoa powder, Salt, Preservative ( Potassium Sorbate ) .
Time to recover and enjoy your piece of cake moment!
A delicious bite full of energy
After intense activity you need a break so your body has time to recover. You need proper post-workout nutrition to help you recharge more quickly! The carbohydrates you find in this product are not there only for energy, but also because they help replenish muscle glycogen after prolonged or highly intensive physical exercise.

After the challenge, your big reward.
Feeling tired? Now take a seat and relax while enjoying 100 grams of pure delight.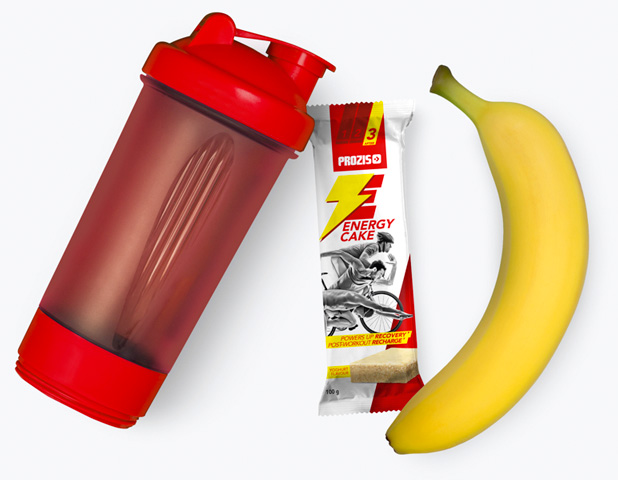 Recovery at stake?
Your energy cake is loaded with oat flakes!
The major focus of recovery, immediately following exercise, is replenishing energy storesand fluids lost during exercise and optimising protein synthesis (the process of increasing the protein content of muscle cells to prevent muscle breakdown, and increase muscle size) by eating the right post-exercise foods. Energy Cake is loaded with oats - a premium ingredient, high in fibre and protein! Oats are full of essential nutrients, great to recharge your body!

Oat beaut
Oats are a nutrient-dense cereal, a healthy and natural way to provide your body with more energy! Packed with essential nutrients, oats contain more protein, vitamins, minerals, fibre and phytonutrients than most refined or processed grains. Energy Cake is loaded with oat flakes for a great recovery!
 
Product highlights
Excellent carb sources for rapid and lasting energy

Boosts post-workout recharge

Powers up recovery

Delicious flavours

On-the-go energy cakes

Ideal to take after physical activity
Energy Cake 100g / Energiabatoonid
Tootja: Prozis
Mudel: prozis00083
Saadavus: Laos
Sildid: energy, cake, 100g, , , , energiabatoonid